Mark Fichandler started Studio-Fichandler in 2010 after a 20 year career as an executive producer of television documentaries. During the process of renovating and designing three of his own homes, he realized his love of creating the perfect environment and wanted to share that with others.
After completing studies at Parson's, Mark initially worked with acquaintances who saw his Butterfield House apartment published in the New York Times. Since then he has branched out to work with a wide variety of fascinating clients in the New York area and in Southern California.
Striving for a comfortable, eclectic, undecorated look, Mark enjoys mixing rejuvenated favorite pieces with those new key choices that tie everything together. He relishes the dialogue with his clients, which he feels brings out the best in his and their design aspirations. Mark believes that the "hand of the decorator should be lightly placed upon the interior" and that a home should mirror the character of its inhabitants, as interpreted through his design aesthetic.
---
In the Press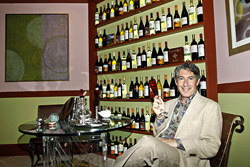 2011 Hampton Designer Showhouse
The Quest For It describes the 2011 Hampton Designer Showhouse
which featured the Studio Fichandler designed wine tasting room.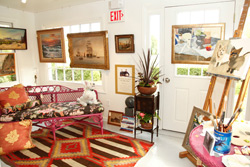 ARF Designer Showhouse
Studio Fichandler created an artist studio for the Animal Rescue Fund of the Hamptons fundraiser described here in Dan's Papers (pdf).
New York Social Diary has an online photo gallery featuring all the rooms from this event.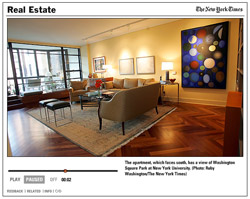 Greenwich Village's Butterfield House
New York Times article and photo gallery profiles Fichandler
and the renovation at Greenwich Village's Butterfield House.